2015 EUROPEAN PROVENANCE DEALER OF THE YEAR!
We are delighted to announce that Rolls-Royce Motor Cars Edinburgh has recently been presented with the 2015 European Provenance Dealer of the Year award!
Having recently achieved the highest year-on-year growth of any dealer in the European Region as well as our own Gavin Kynoch becoming the highest qualified RRMC Sales Manager in the world, this most recent award is the icing on the cake for 2015, indicating how far the business has come since The Leven Car Company took over in 2014.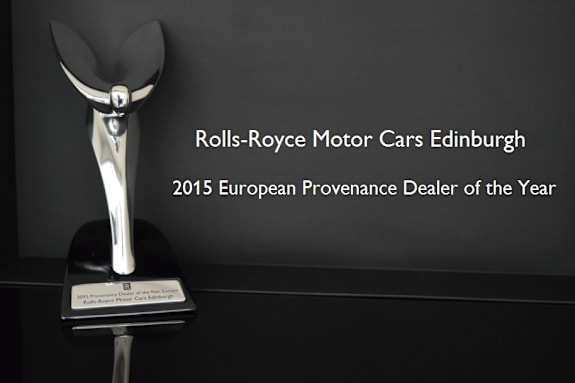 WHAT MAKES A PROVENANCE ROLLS-ROYCE?
Purchasing a Rolls-Royce, with it's visionary engineering and hand-crafted build, should always be an exceptional experience, regardless of its age. That's why only the finest Rolls-Royce motor cars attain the Provenance title.
At Rolls-Royce Motor Cars Edinburgh, our uncompromising standards and drive for excellence ensure that every Provenance vehicle not only delivers total reassurance but, thanks to our two year servicing and warranty cover, it is a also a sound investment for the future. With its own distinctive style and features, every Rolls-Royce motor car is unique. The only vehicle designed and crafted to out last its owner, Rolls-Royce Motor Cars are built to serve for many decades, and discerning motorists have maintained their vehicles to the highest standard, with over 70% of Rolls-Royce motor cars ever built still in regular use today, each with its own story and character.
Key Points of Rolls-Royce Provenance:
We only feature those that have been meticulously cared for and maintained at the highest level, with an exhaustive written record to prove it.
Full vehicle inspection by fully trained Rolls-Royce Motor Cars Technicians.
A minimum 2 year Warranty with Routine Servicing included.
Only Rolls-Royce Genuine Parts and oil are used.
The opportunity to add your own touches to the vehicle, such as Starlight Headlining or upgraded Wheels prior to delivery.
CLOSER THAN YOU THINK?
Provenance Rolls-Royce has proven to be very popular and has helped us to attract new customers into the Rolls-Royce family that would previously be looking at high end Mercedes or BMW product. Bespoke finance and funding packages through the Rolls-Royce Financial Services Concierge Team can be tailored to ensure that you get the best deal possible for you, making Rolls-Royce closer than you think.
To view our current range of Provenance vehicles please visit the following link and contact us for more information:
http://www.levencarcompany.co.uk/rolls-royce/pre-o..
A BIG THANK YOU TO ALL OF OUR CUSTOMERS WHO HAVE HELPED MAKE THIS ACHIEVEMENT POSSIBLE AND HERE'S TO AN EVEN MORE SUCCESSFUL 2016!