We're proud to announce our sponsorship of Race The Runway at Edinburgh Airport, in support of the Beatson Cancer Charity.
In our PR photoshoot, Managing Director, Chris McMahon, is photographed alongside Morag Cunningham - Head of Fundraising, Gordon Dewar - Chief Executive of Edinburgh Airport, and Bella the Bee - the charity mascot.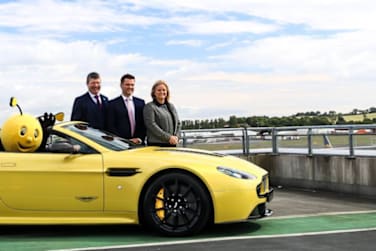 It's fair to say Bella looked the part next to the Aston Martin Yellow Tang V12 Vantage S!
Join us for the main event on Wednesday 30th August at Edinburgh Airport for your opportunity to race 1800m along the second runway and raise funds for the Beatson Cancer Charity.
At £395 per car, you're given two exhilarating runs to fight it out for the fastest car accolade!
For more information or to book your slot call the events team on 0141 212 0505 or email events@beatsoncancercharity.org
We can't wait to see you there!