On Saturday 26th March, the DB11, part of the new generation of Aston Martin, visited our Edinburgh dealership for the first time. Although not officially released until later in the year, the newest addition to the Aston Martin lineup stopped off for one day on it's tour of the UK, giving our customers and car enthusiasts alike an opportunity to view the car in the metal.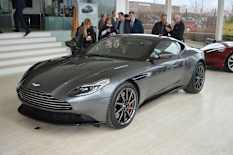 Over 250 people including the press visited throughout the day. The feedback on the car was incredibly positive with various orders being placed which was great to see. Thanks to everyone who came along.
Contact us on 0131 442 2800 for more information on DB11.