Merlin ERD is an award-winning company based in Perth, Scotland – with a very special pool car. They specialise in digging wells for hard-to-reach oil sources, so their passion for engineering is key.
When the team worked particularly hard delivering a lucrative project in Azerbaijan, Managing Director Iain rewarded them with an Aston Martin DB9 volante.
"Most engineers are petrolheads so it always strikes a chord when we drive up to industry events and meetings," he said. "The car is a great ice-breaker and conversation piece, purchased in 2014 as a reward for the team who had been working hard on a contract for a major client".
This distinctive, subtly-branded vehicle can go from 0-60 in 4.6 seconds, has a top speed of around 190 mph and boasts a six-litre V12 engine. It's certainly not your average pool car but an effective marketing tool and a regular sight on the streets of Perth and the surrounding area.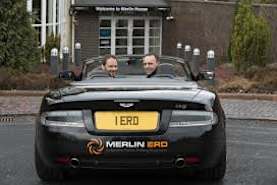 Iain, a Chartered Mechanical Engineer and recreational pilot who displays a MKII replica Spitfire that he built himself, founded Merlin ERD in 2007. The company name is itself a nod to the Rolls-Royce engine that powers the mighty Spitfire, another piece of iconic British engineering. Their passion for ground-breaking technology has led Merlin to also sponsor the Bloodhound project, the UK's attempt to smash the world land speed record by taking the custom built supersonic car to 1,000mph.
Merlin were recently presented with a Queen's Award for Enterprise, their second in two years. With recent contract wins taking totals to over 200 projects in 34 countries, 2015 and 2016 saw the company shortlisted and winning many prestigious awards, including coveted Society of Petroleum Engineers (SPE) Offshore Achievement Award.
The Aston Martin pool car is viewed by the Merlin team as a real privilege. Staff are trained under the expert guidance of an advanced driving instructor and everyone has been taught how to handle the power of this car ensuring it does not end up on its roof!
Safely tucked up in the garage throughout the winter months away from Scotland's extremities, it is only taken out on the appropriate days. The rules governing its use are very strict; if you get caught speeding then you are banned from driving the car for three months. Luckily, it was Iain himself that was first to break the rule. Who was brave enough to tell the MD that he couldn't drive the car?
Drilling the longest wells in the world and driving one of the fastest cars in the world, Merlin certainly is a force to be reckoned with.
As their MD often says "To drive it is to know you're alive!"